Located just inland from Lake Huron, and north of Saginaw, Bay City is somewhat unique as the home to four modern drawbridges: Liberty Bridge, Veterans Memorial Bridge, Independence Bridge, and Lafayette Avenue Bridge. They enable traffic to flow between the east and west sides of the city, while still allowing large ships to travel easily along the Saginaw River. It is across one of those bridges, on the east side of the city, where you will find another of the town's treasures, Half Mile Handmade, a retail store specializing in the work of local artisans.
The quaint little shop nestled in the historic downtown area, will celebrate its first anniversary later this month. It is the dream of Capri Wisniewski, a maker herself, who also happens to have a Master of Business Administration degree from nearby Saginaw Valley University.
Though not every single item in the store is made in Michigan, most are, and one undeniable commonality is that they are all handmade. That means that virtually every item you purchase is one of a kind. It also tends to mean that the selection will constantly vary, making each stop in a unique shopping experience.
If you're in the market for something special to furnish a home or cottage, this is a great place to come. There is a huge supply of wall and shelf art, pillows, coasters, candles, cutting boards, and other home décor, both with or without a Michigan theme. The shop also hosts a nice collection of beach, nautical, and state-inspired apparel, as well as jewelry and some other accessories.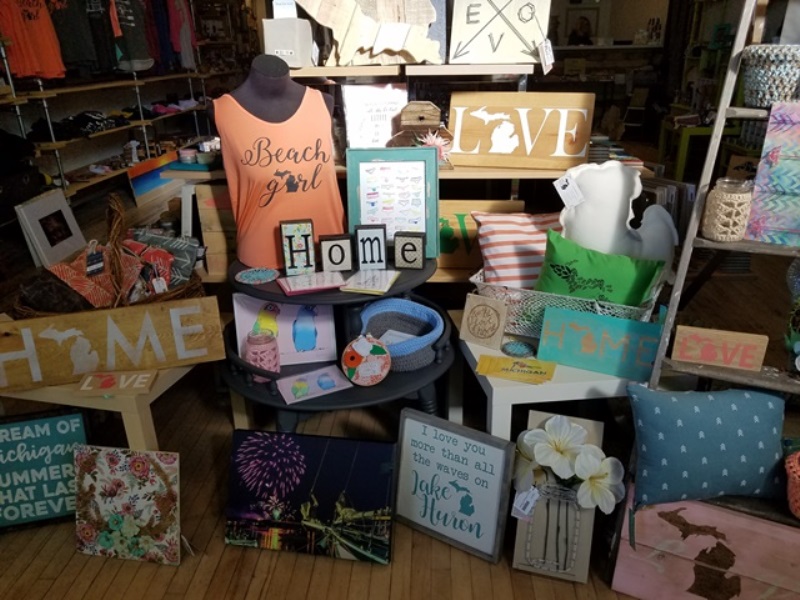 This shop operates using a consignment model. Vendors are either recruited through word of mouth, craft shows, etc., or apply online for a space. The application is fairly simple, requiring minimal business information as well as submission of photographs of the work to be considered. Accepted vendors then set their own prices and retain 60% of each sale.
The concept has been so successful that Wisniewski is also setting up shop as one of the few non-food vendors inside City Market. The area's newest jewel, City Market is a year-round, indoor farmer's market where consumers can purchase fish, meats, produce, baked goods, chocolates, and locally-sourced products. It is also well worth a stop, while in the Bay City area. It's open 10am-7pm Tue-Fri and 10am-2pm on Saturday.
Meanwhile, Half Mile Handmade is celebrating its one-year anniversary with a special event on June 23, from 6pm-8pm. Attendees can participate in a free make and take activity as well as enjoying 10% off of purchases throughout the day.
While near the shop, you may also want to save time for a lovely stroll along the river, explore the Delta College Planetarium, and get a delicious meal with an excellent selection of Michigan craft beers at Tavern 101.
Half Mile Handmade is open Tue-Fri 11am-7pm; Sat 10am-5pm; Sun 12pm-4pm; but closed on Mondays.  It is located at 904 North Water Street, Bay City, Michigan 48708.