No trip to the Traverse City area would be complete without wandering downtown and popping into a bevy of locally-owned boutiques and eateries. One such shop, My Secret Stash, is definitely worth a stop. Sharing its name with a bath and body line created by the owner, it features a truly wide array of Michigan-made products from over a hundred suppliers.
Proprietor, Karen Hilt, originally from Flint, credits the ups and downs of the automotive industry that she witnessed in her youth, with igniting the passion she now has for locally-produced items.
"Growing up in Flint I lived through what happens when manufacturing goes awry," said Hilt. "I think it's important to show that a group of makers can be viable and support the community. I like supporting those makers. It's important for people to see that you can still make things with your hands, and important for the community to see money staying here," she continued.
After a few moves around the state that included time spent in Lansing and Metro Detroit, she and her family resettled in one of their favorite towns, Traverse City. With years of experience in the retail industry, running businesses for others, Hilt finally saw the dream of owning her own space come true. She opened My Secret Stash in 2014.
Prior to opening, she had developed a lot of relationships with other makers around the state through events like our own Buy Michigan Now Festival and co-op retail spaces like Art Is In Market. Many of those businesses now sell some of their products though Hilt's store. There are also others that have captured her attention through word of mouth, emailed images, and browsing new shows. All told, there are approximately 100-120 Michigan-based suppliers represented in the store on any given day.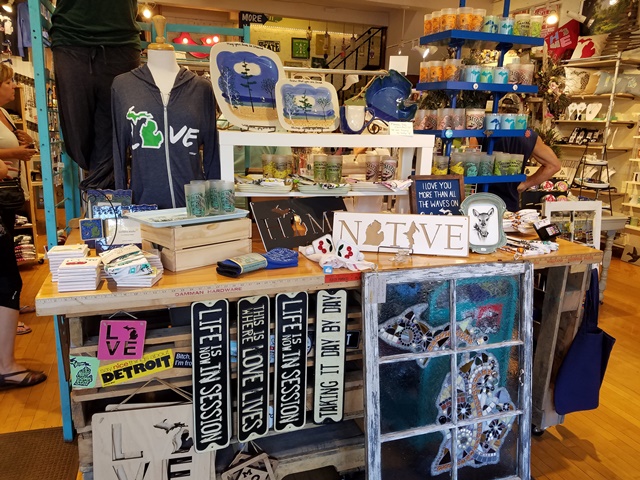 Over the years, a few have had to leave the state for a variety of reasons, but Hilt has remained loyal to them, and continued to sell their products. They all have Michigan ties and the idea of kicking them out just because they moved seemed nonsensical. In the end she still estimates that 98% of the products she carries are made in Michigan.
They range from extremely popular apparel lines like Detroit GT and Tee See Tee to gorgeous pottery from local artist, Julie Chai. You can also find unique jewelry, serving platters, candles, cards, signage, decals, home décor, and a wide array of gift and souvenir ideas. Hilt can often be found in the store, and when she is not, it is staffed by friendly souls, equally enthusiastic about the products they sell.
When asked why she recommends people visit her store Hilt jokingly replied, "To support local makers, and because everything is ADORABLE."
Both sentiments are fairly accurate. This is a well-curated shop that really strives to present other local businesses in their best light. Exposure in a store front gives makers more of an opportunity to work on creating products. In turn, most of them tend to keep their money local as well. That means a dollar spent here is likely to be respent within the community several more times.
While in the area, you also can find some scrumptious morsels among Hilt's neighbors like breakfast favorite, The Omelette Shoppe, or firehouse turned French restaurant, Bistro Foufou.
My Secret Stash is open M-Th 10am-5pm; Fri 10am-7pm; Sat 10am-7pm; and Sun 10am-3pm.  It is located at 122 Cass Street, Traverse City, MI 49684.