Michigan is home to many beautiful national landmarks, such as the National Lakeshores of Sleeping Bear Dunes and Pictured Rocks and our three National Forests, Huron-Manistee, Hiawatha and Ottawa. We have a National Historic Park at Keweenaw in Calumet and one National Battlefield Park, the River Raisin in Monroe. We also have one very special National Park, Isle Royale, which is as far north as possible, almost located in Canada.
Interestingly enough, Isle Royale wasn't Michigan's first national park. Three years after the United States established Yellowstone as the first national park, on March 1, 1872, Mackinac Island was designated as the second. This was in response to the growing popularity of the picturesque island as a summer resort. In 1895, Michigan governor John Rich requested that Mackinac National Park and the recently decommissioned Fort Mackinac, be turned over to the State of Michigan. The federal government did so, and Michigan wouldn't be home to another national park until April 3, 1940 when Isle Royale was established. This park has a rich history, fantastic flora and fauna, and you can even see a moose!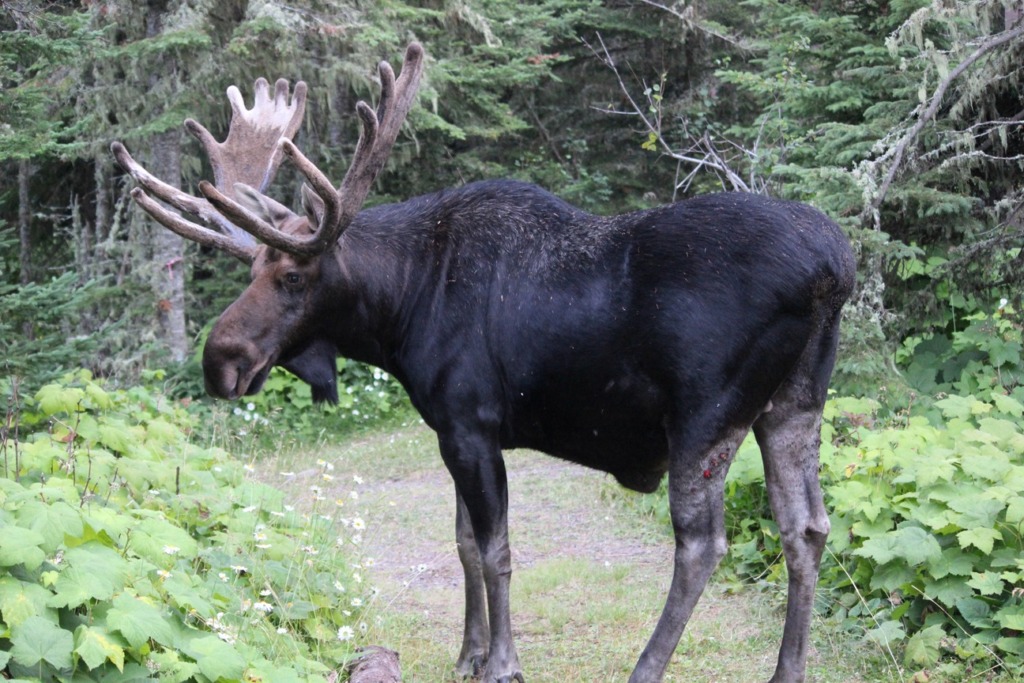 The history of the island dates back to 3000 BC, as evidenced by large amounts of copper artifacts found in Indian mounds and settlements. A Jesuit missionary named Claude Dablon wrote of an island known as Menong that was celebrated for its copper. When the mines were re-worked in the 1840s, evidence from these earlier mines was discovered including stone hammers, copper artifacts, and places where copper had been worked out of the rock, but not harvested.
Mining copper wasn't the only economy on Isle Royale. There was a lucrative fishing industry as early as the 1830s, mostly from seasonal fishermen. In 1837, the American Fur Company opened fishing posts and erected fish houses, some of which still stand today.
In 1839, Michigan's first geologist, Douglas Houghton, and his survey assistants mapped and evaluated Michigan's natural resources. His fourth report, based on field work done in 1840, helped trigger the first great mining boom of American history, and earned him the unofficial title of father of copper mining in the United States. This was especially true in the Upper Peninsula.
The miners on the isle and their families either lived in houses or barracks. It was not easy work and there were many injuries and deaths. Drowning down in the mines, accidents and illnesses, especially the dreaded dysentery were common killers. In 1847, Isle Royale reached its peak population of 120 people when more than a dozen mining companies had established sites.
Since the park is made up of numerous small islands surrounding the main island, ships had to be guided by lighthouses, especially at Passage Island, Rock Harbor, Rock of Ages, and the Isle Royale Lighthouse. The first lighthouse built was Rock Harbor, in 1855. In 1908, the Rock of Ages Lighthouse was finished. This is the tallest lighthouse on the Great Lakes at 117-feet high. Most of these lighthouses are still standing and can be visited today.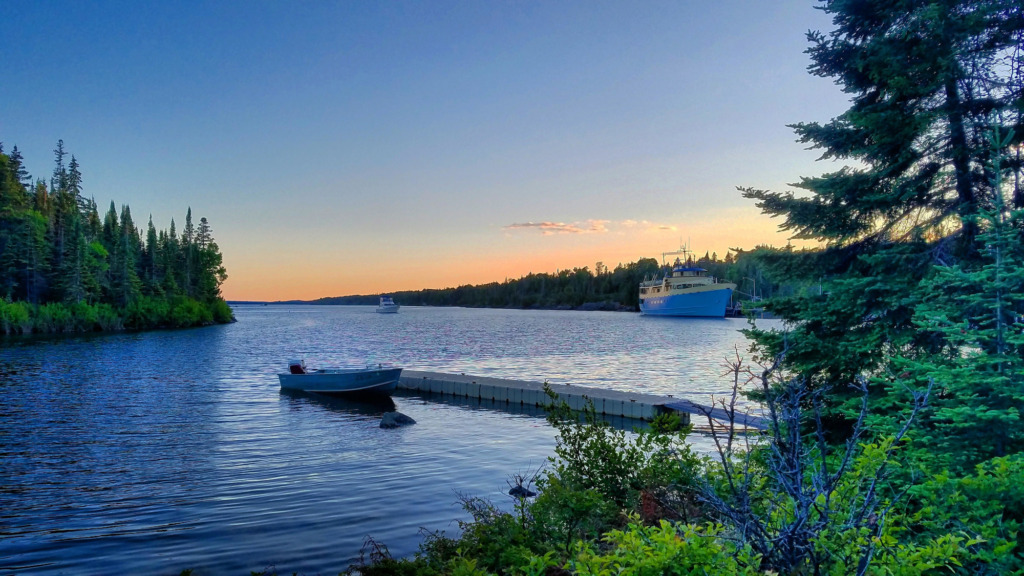 The area has notoriously harsh weather and dramatic underwater topography, which has led to several shipwrecks. The lightkeepers had to help in many ways. In fact, during a storm in December of 1906, the assistant keeper of the Passage Lighthouse rowed out to Blake Point to rescue the crew of the stranded Monarch craft after a particularly fierce storm. Many of the shipwrecks are still intact and well-preserved due to the cold, fresh water.
By 1890, business owners realized that copper mines were no longer making money. The Isle Royale Land Corporation began making plans to develop the island as a summer resort, rivaling Mackinac Island. They built cottages to rent and allowed other groups to camp. The Island Mine Company and Isle Royale Land Corporation sold many small tracts of land to buyers wanting to either build resorts or have their own escape in the north. In 1901 a Duluth shipping line began running excursions to Washington Harbor. Resorts began popping up and each of the resorts had its own clientele and character. This is what would eventually lead Isle Royale to becoming a national park.
Summer residents quickly developed emotional ties to the island and considered themselves protectors of the island. Their love of the place led many, such as Frank Warren of Rock Harbor, to head efforts to preserve Isle Royale from excessive development. Warren and other island property owners formed the Isle Royale Protective Association. This group looked for state or federal ownership for the entire island, including all private inholdings, so that it would be easier to make the land into a national park. They contacted numerous potential advocates and sent many proposals to state and federal groups. The proposal of an Isle Royale National Park resulted in a lot of publicity for the island during the 1920s and early 1930s. Albert Stoll was the outdoor editor for the Detroit News and a leading advocate for the creation of Isle Royale National Park.  He brought several officials to Isle Royale and promoted the island's attractions. Annual trips to Isle Royale were offered to members of the Saginaw YMCA in the 1930s and the Boy Scouts also began to regularly send groups to the island.
Luckily for Isle Royale, there were changing ideas of wilderness recreation in the 1930s.  People wanted more interaction with nature, instead of just tennis courts and golf courses. Visitors and summer residents had always been attracted to Isle Royale for its remote and rugged wilderness. The island was treasured for these qualities and biologist Adolph Murie advised that trail development, tourist facilities, and publicity be kept to a minimum. Recreation at Isle Royale National Park was to be a wilderness experience.
After 1931, the federal government began to purchase private holdings of land and property on Isle Royale. By 1935 a majority of the island had been purchased from the largest landowners, which left smaller clusters of individual properties for purchase or donation. Summer cottage owners were offered life leases in return for a reduced sale price. As part of this agreement, maintenance and upkeep would be performed by the families. The presence of the remaining summer camps and cottages on Isle Royale today can be credited to the tenure of the life lease.
Isle Royale is known for its unique wildlife, including timber wolf and moose populations. It is the only known place where the two species coexist without bears in the mix. Neither the wolf nor the moose are native to the Isle and there are many theories as to how they arrived. The wolves most likely came over on the ice during the winter, and it is believed that the moose were brought over from Minnesota to create a private hunting preserve in the early 1900s. Other wildlife include otter, beaver, red fox, Cooper's Hawk, golden eagles, loons, and many fish, amphibians and reptiles common in Northern Michigan.
Isle Royale National Park is car-free like Mackinac Island and has 893 square miles of forests, lakes and waterways where all this wildlife can roam. It boasts over 165 miles of hiking trails, spectacular harbors with many kayaking and canoeing routes, picturesque 19th Century lighthouses, and dive sites where visitors can actually explore several shipwrecks. If adventure in a true wilderness setting is what you love then this beautiful, secluded and tranquil national park is the ideal place for you to visit during your next Michigan vacation. Hope to see you there!