Stock up on snacks, pick a meeting place, fill the tank, and hit the road. There are few things I enjoy more than a road trip, especially when it involves some of my favorite people. Such was the case recently, when my high school friends and I headed up north for a long overdue winetasting weekend.
Winter is a spectacular time of year to go, especially to the Traverse City area. It's less crowded, making it an easy time to find a place to stay and get into your favorite restaurants, wineries and breweries. Plus, if you're planning a girls weekend, there tend to be less school and social commitments, making it more likely that your whole crew can get away together.
While to some it may seem like just inevitable travel, the time on the road, if approached properly can be almost as much fun as the arrival. First, you need great snacks. In our case, we turned to Pop Daddy for some crunchy inspiration. Leave yourself plenty of time so that you can account for construction, accidents, weather conditions, and most importantly, unscheduled stops. You never know when a billboard or road sign may pique your curiosity, or a view will take your breath away. It's nice to be able to pull over whenever inspiration, or nature, calls. The ride is also an excellent time to catch up on each other's lives.
We chose to leave around mid-morning so that we could arrive in Traverse City with plenty of time before it got dark. When you go in the winter, it is advisable to keep in mind how much earlier the sun sets before heading out on potentially icy roads in unfamiliar territory.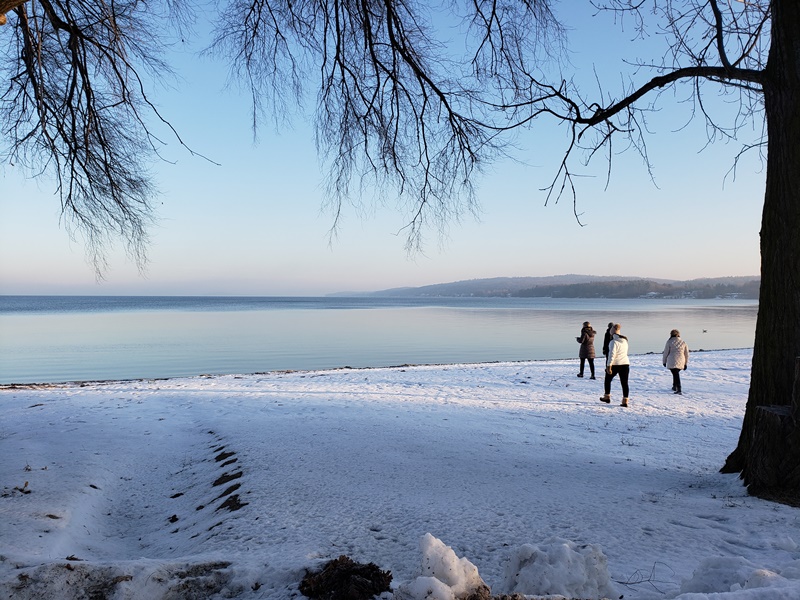 An early afternoon arrival also leaves plenty of time to check into wherever you're staying and still enjoy the scenery before sunset. We rented a condo in town. That would enable us to walk around and enjoy the neighborhoods and the bay, in addition to exploring the peninsulas. Once settled in, we had some decisions to make, and a few hunger pangs.
Traverse City is one of the state's best foodie destinations, and is loaded with excellent dining opportunities. We selected a perennial favorite, The Franklin on Front Street. The food there is delectable, and ideal for sharing if you want a light nosh, as we did. There we started to sketch out the remainder of the weekend.
We then headed out onto Leelanau Peninsula. In addition to spending time in downtown Traverse City, no trip to the area is complete without exploring both Leelanau and Old Mission. Leelanau is much longer, and it's so beautiful and destination-rich, that it can consume a lot of time. Be sure to at least go as far out as the ever-charming Suttons Bay.
We knew we would be winetasting on Saturday, so we opted for a cidery first. The view from Suttons Bay Ciders is worth a stop even if you don't want to do a tasting. They are so friendly there that they are happy to let you just walk around and soak it in, and even offered to take a group photo for us, regardless of whether or not we would be paying customers. Naturally, we took them up on it, and then sat down to share some cider flights.
A little further up the road was our chosen hangout for the night, Hop Lot Brewing Co. It was one of the first places in the state to put up igloos, and the setting is still one of the most enchanting. Definitely make a reservation in advance to make sure that you will get some igloo time. Arrive a little early so that you can place your food and beverage order inside the brewery to have it delivered to your igloo.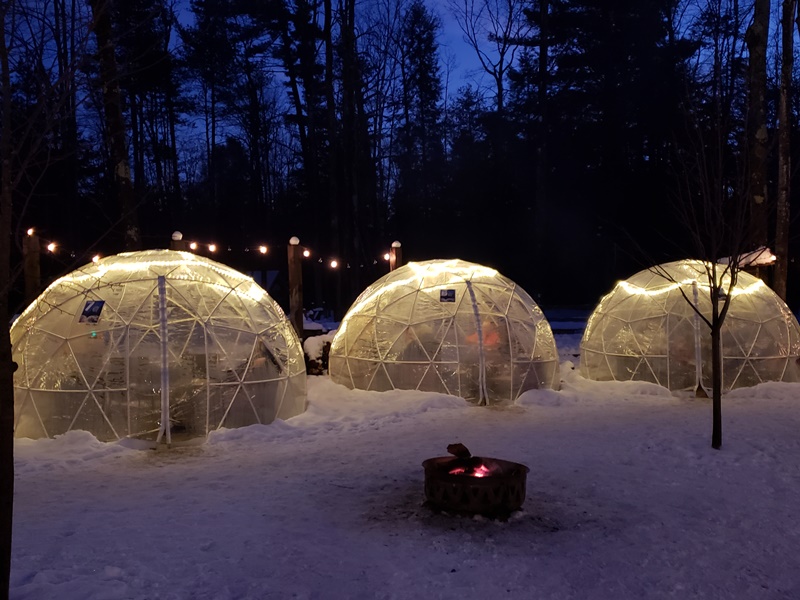 Saturday morning, the weekend really kicked into gear. We opted to start our day with a brisk walk to explore the stunning snowscapes and sunny streets. The weather was perfect. Next up, was a little at home brunch, during which we cracked open some of the provisions we made sure to stock. We decided to do a north versus south Bloody Mary tasting, pitting American Spoon of Petoskey fame against the legendary Vivios of Detroit.  Grand Traverse Distillery and Two James added the extra kick, along with pickles from McClures. The results were delightfully inconclusive.
Next, it was off to Mission Point for the rest of the day. When you go winetasting in the winter, it's important to check ahead and find out which wineries are open, and what hours, so you can plan your route. Any time of year, it's also critical to make sure no one gets behind the wheel who shouldn't. We had a person who was willing to be the designated driver, but if you don't have that option, there are a variety of services available. Some are a flat fee per person, while others are an hourly rate. You can go with just your own group, or join a tour. Be sure to ask if a gratuity is expected or already included. Lyft and Uber also both operate in the area now, so the options for a safe experience are abundant.
In choosing your route, consider where you might want to have a meal, as well as anything else you want to see along the way, and where you wish to end up. Knowing we wanted to end close to Traverse City, we drove out to the tip first to see the adorable lighthouse at Old Mission Point. It was a nice chance to walk the snow-covered beach and even dip a digit in the water to test the frigid temp.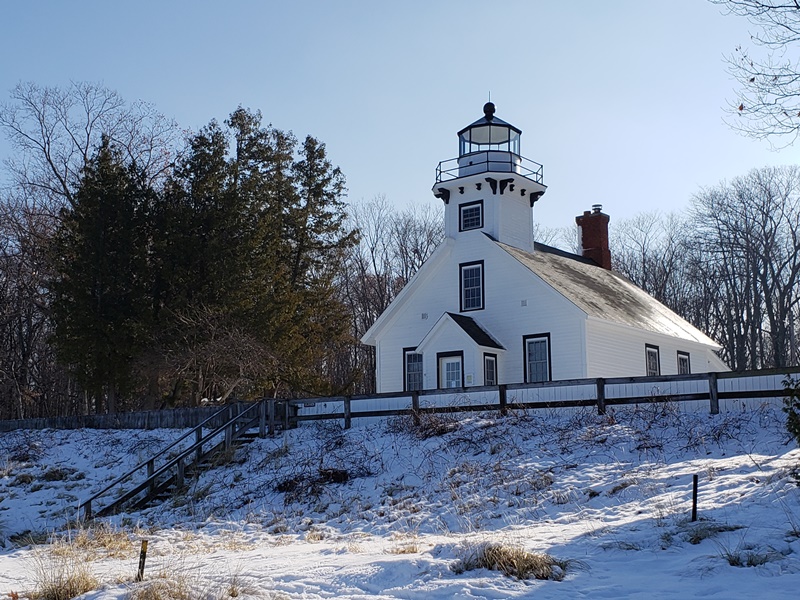 From there, we began working our way back with tasting stops first at 2 Lads, Chateau Chantal and Bowers Harbor. Each experience is truly unique in atmosphere, approach, and of course, wines. We all had different favorites. While you're just sipping and not necessarily drinking, a good rule of thumb is a meal after three wineries. Our route led us perfectly to Jolly Pumpkin, home of scrumptious food and delectable thirst-quenchers. The vibe is pretty fun too. The menu has lots of comfort food, ideal for winter, and the signature curry chips are a must try.
After lunch we had just the right amount of time to take in glorious views and make stops at Brys Estate, and Bonobo, where we watched the sun setting, and then close down Mari at 6PM.  This route puts you closest to Traverse City for a quick ride home, leaving the evening open for a late dinner in town.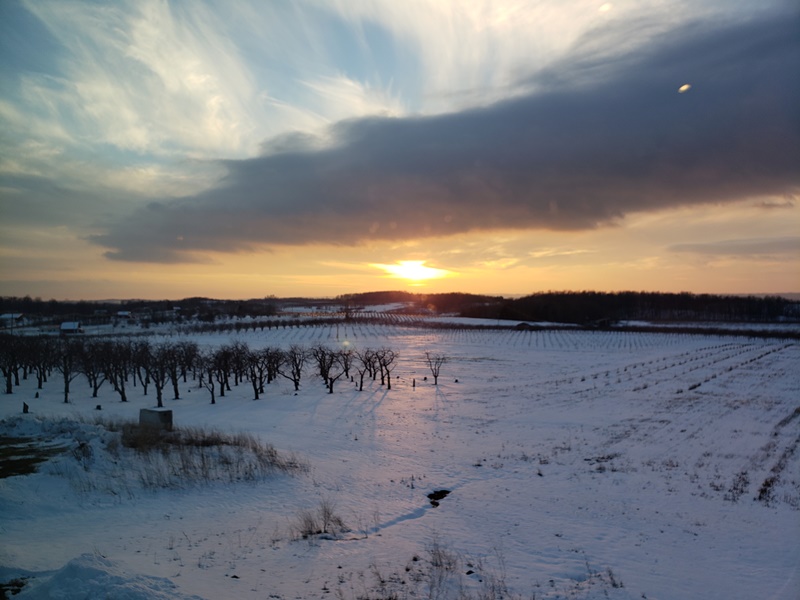 Having made it out on each peninsula, and with both cider and winetasting under your belt, Sunday is wide open. Enjoy brunch in town. Go on a shopping excursion with stops at specialty retailers like My Secret Stash, Fustini's Oils & Vinegars, and the Candle Factory. Try your luck at a casino, or explore nearby Sleeping Bear National Lakeshore.
When you're ready for your adventure to end, load your newly purchased wine and other goodies into the car, and head on out. If you're lucky like I am, the drive back will fly by, reliving brand new memories, telling a few more old tales, and with loads of laughs to tide you over until the next adventure.