Longer, darker days seem to be a good time to enjoy slow-sipping darker beers like porters and stouts. Winter is less about an ice cold, refreshing beer, and more about coziness and comfort. Fear not, even a novice beer drinker can likely find a porter or stout they will enjoy. We've identified some of Michigan's best porters and stouts as a taste-testing guide.
First, you may wonder, what's the difference between the two styles? Well, ask a hundred brewers and you'll probably get a hundred different answers. Historically, Porters came first and are believed to have been derived from English brown ales. Most experts would agree that Stouts were originally characterized as stronger, full-bodied versions of Porters. Today, they are often interchangeable in character and have more in common than what divides them. That commonality includes roasted barley, and rich flavors like chocolate and coffee, which is why even people who aren't big beer drinkers will probably find one that they like.
Nearly every local brewery makes a porter, or a stout, or more than one, so there are a ton to explore. Below are ten of the most highly rated, which also makes them easier to find outside of their individual breweries. They provide a great jumping off point.
Atwater Vanilla Java Porter (ABV 5%)
Affectionately known to some as VJP, In the world of local porters, this offering from Atwater is an excellent place to start. English in style and deep brown in color, this is a very smooth ale. There are definitive notes of coffee and vanilla, so it's aptly named. If you like a nice, sweet latte, this is a beer you will savor. You might even like it enough to have it in other seasons to. Fortunately, it's available all year. The VJP line also has a couple of cousins worth a try. Hazelnut (ABV 5%) is around from October to December, while Coconut (ABV 5%) comes to life from April to June.
Bell's Porter (ABV 5.6%)
If you'd like something a little more robust that tastes a little less creamy and more like an ale, then check out this porter from Bell's. At first sniff, you'll likely notice the strong presence of chocolate ans caramel malt. It's a little chocolaty, a little mochaesque, but the hops cut the sweetness with a little bitterness. This is probably a better choice for those of you who are already sold on the beauty of dark beers, than for a novice.
Dark Horse Plead the Fifth (ABV 11%)
If you find yourself in Marshall, Dark Horse is a really fun stop to make. You'll discover a ceiling bedecked with steins and a taste-tempting lineup of brews worthy of note. Among them is the Russian Imperial Stout. It is pitch black in color with a faint tan head. It's smooth on the palate, but complex with flavor including dark fruits, chocolate, caramel and a roasted appeal. Do you prefer more of a kick? Then you're in luck because the Plead the Fifth line also includes a unique BBA Spicy Hoy Chocolate Stout (ABV 11%). If you love a Mexican Hot Chocolate, then this option will be a favorite, with aromas of cinnamon and chocolate and a spicy bite on the back end.
Founders KBS (ABV 12%)
Considered by many beer lovers to be one of the best in the world, Founders KBS is a big imperial stout. It is brewed with a massive amount of coffee and chocolate, then aged in bourbon barrels. The result is incredibly drinkable, yet full-bodied with notes of vanilla, cocoa, roasted coffee and charred oak. What would happen if you aged a beer like that in bourbon barrels that were once used to house maple syrup? Well, you'd get CBS (11.7%), which has a rich maple syrup taste, alongside roasted coffee and velvety chocolate. Harder to find, but worth the effort, CBS is definitely sweeter than its cousin, but if you like maple, you'll love it. Try them and compare. In fact, the KBS line also includes Hazelnut (ABV 12%) and Mackinac Maple Fudge (ABV 11%) versions. You may also want to try Founders Breakfast Stout (ABV 8.3%).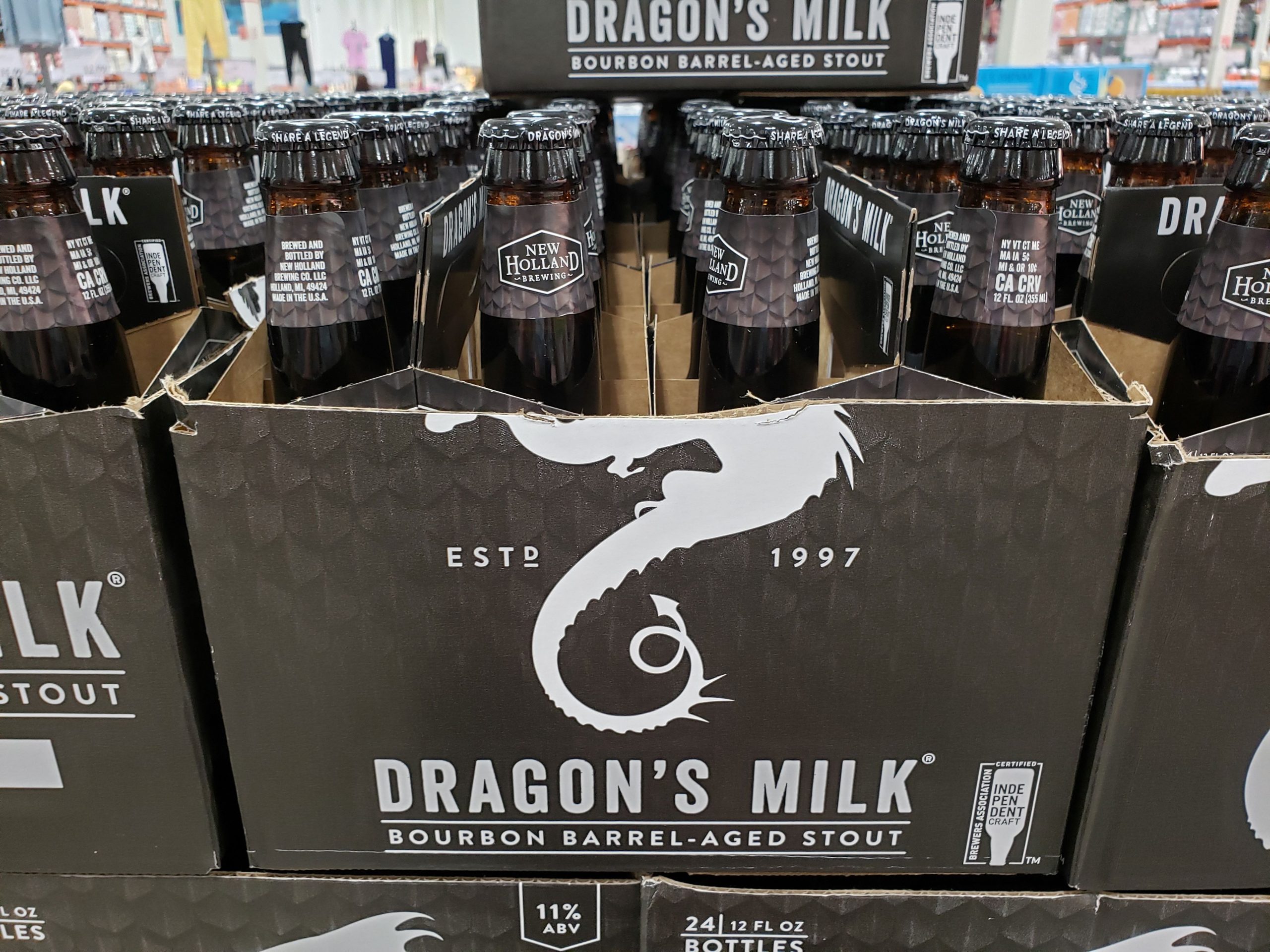 New Holland Dragon's Milk (ABV 11%)
New Holland really set the local beer market on fire when it introduced Dragon's Milk. The roasted malt, in what has become a West Michigan staple, delivers notes of coffee and chocolate. Those flavors are complemented by undertones of vanilla. Then there's the oaky taste that comes from a three month stay in bourbon barrels. The result is a magnificent combination that has led to an entire line. There is a lighter version called White (ABV 6%). Solera (ABV 10%) features caramel, toffee and fig. Triple Mash (ABV 17.3%) is aged for a whole entire year in bourbon barrels, which really kicks up the flavor. New Holland also has a Dragon's Milk Reserve line with changing flavor profiles each year. Some have been fruity, while others taste like cookies or s'mores.
Perrin No Rules (15%)
Note the alcohol content before you settle in with this delectable Imperial Porter. The strength is there, but doesn't show in the taste. It is smooth and subtly sweet with tons of flavor. Perrin claims that some say it tastes like a Mounds candy bar that's been dipped over and over again in rich chocolate and soaked in bourbon. Yet, other people correctly identify flavors of coconut, cinnamon, toffee, vanilla, and coffee. It's been named one of the top beers in the world, so perhaps you'll just have to taste it for yourself and see what comes through to you.
Rochester Mills Milkshake Stout (5.3%)
If it's really possible for a beer to actually taste like a milkshake, then this is about as close as you can get. That is especially true if you try the very creamy nitro version at Rochester Mills. The flavor of either is intensely chocolaty. It may well be the dessert of local brews, and an excellent starting stout for those who are scared that a dark brew will be strong and bitter.
Short's Chocolate Wheat (7.3%)
You might have to make a trip to Short's to taste Chocolate Wheat, but hey, who doesn't love an excuse to head to Elk Rapids? This porter is brewed with chocolate malt, wheat malt, and some specialty grains. This is a full-bodied brew that balances a little hoppy bitterness with the rich tones of malt. You'll likely taste roasted caramel, coffee, and chocolate, all in one lovely sip.
These are just some of Michigan's best porters and stouts, but there are many others being made all over the state. Some even feature extra flavors like peanut butter and assorted fruits. Many are sold in 4-packs, or you can visit a store that sells beer by the individual can or bottle to try one without over committing. Alternatively, head directly to a brewery and sample a flight. Porters and stouts are sure to add some flavor and warmth to your winter.