America's Number One Hornet's Nest. Home of Generals. Home of the MiG Killers. These are all nicknames for a historic military base in Michigan. The Selfridge Air National Guard Base, formerly known as Selfridge Field, has been an important training ground for our troops since World War I. Today, it hosts many of our nation's military units, such as the Air Force Reserves, Marine Corps Reserve, Army National Guard, and Active Duty Coast Guard.  From 1971 until the late 1990s, it was the largest and most complex Joint Reserves Forces base in the United States. The base also has an air museum with exhibits, photos and artifacts of military aerospace history, as well as an outdoor park with over 30 aircraft. This museum is operated by the Michigan Air Guard Historical Association. Selfridge Air Base has a rich and interesting history, and celebrates its birthday in July. I found its history to be fascinating, and decided to share it with you for this month's article.
In the 1910s, aeronautics was still very new and exciting, and many men and women took a great interest in it. One of these men was Henry B. Joy, the president of the Packard Motor Company. In 1916, Joy bought a tract of land off of Lake St. Claire as a testing field for his division of aircraft engine development. At first, it was simply a muddy, unpaved field and many pilots were wounded or killed because of the conditions. Henry Joy needed to find a way to make improvements to prevent these accidents. At this time the First World War was in full swing in Europe, and airplanes were playing a small role in the early years, however, many began to see just how useful they could become.
The United States entered WWI on April 7, 1917, and lobbying began in Washington DC to locate a military airfield on the site of the Joy Aviation Field. Joy offered to lease the land to the US Army. Proponents of the plan argued it was a good site because of its proximity to the US automobile capitol and how close to the lake it was, which would be a benefit for bombing practice. In May, it was announced that the field on the shores of Lake St. Clair would become a training camp as a part of the Air Service. It was one of the first of only nine military airfields in the country. Construction began quickly, with the building of barracks, hangers, supply depots, machine shops, and a school building for training. It was renamed Selfridge Field after First Lieutenant Thomas E. Selfridge, who was the first person to be killed in a powered aircraft crash in 1908 at the age of 26. He had been a passenger with Orville Wright on a flight in Fort Myer, Virginia. Selfridge graduated from West Point Military Academy and was the first secretary of Aeronautical Experiment Association prior to his death.
On July 9, the first training aircraft arrived, a Curtiss JN 4D. The base was preparing to train men in flying, bombing, radio and photography, all to be used in the war effort. Captain Byron Q. Jones was the first commander and was the first military man to take flight from Selfridge. Training began on July 16, and some students learned very quickly. These men were given flight instruction and within two weeks, were deployed for advanced training and combat overseas.
By the end of that summer, 72 men had won aviator ratings and logged over 3,700 flying hours. Hundreds of young men passed through the Selfridge Air Pilot School. At the time, four weeks of training would qualify an enlistee for a commission. From there, they could become instructors at Selfridge, be sent to the war front, or move on to other flying schools. Selfridge quickly gained notoriety for training military pilots, and many aspiring young men wanted to train there.
When winter rolled around, most of the student pilots were sent to schools in Louisiana or Florida, as the Michigan winter wasn't conducive to flight training. The space didn't just sit idle however as Selfridge was turned into a mechanic school. This lasted until March of 1918, and in that time, more than 700 qualified mechanics were trained. With the weather warming, squadrons from Texas were sent north to study at Selfridge, which was gaining a good reputation as a flight school. In April, a new gunnery school, the first in the nation, was prepared, and French, British and Canadian instructors joined the staff. By July, Selfridge had reached peak performance in gunnery training, with over 250 students enrolled.
On November 11, 1918, the First World War ended with an armistice. At that time, Selfridge air base had 1,028 enlisted men and 200 officers. Many of the men who signed on for the duration of the war were discharged. Though there were no new students being trained, the Lake St. Clair airfield became a pursuit (fighter plane) field.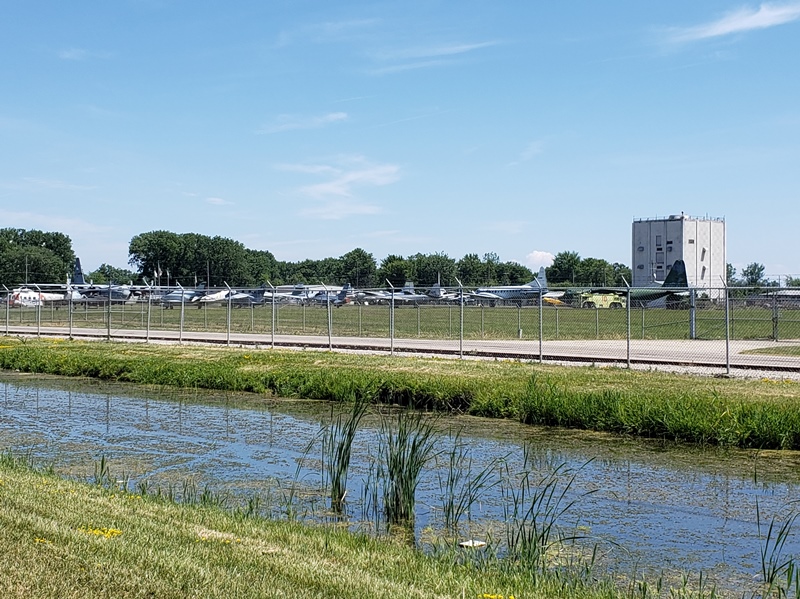 On June 27, 1919, Selfridge Field became the home to the 1st Pursuit Group. This was an Air Force combat group that had gotten many accolades in Europe, and they were the main force there. On August 28, the 1st Pursuit Group was moved to Texas and all but forty men remained at Selfridge. Though the future of the field was uncertain, between 1919 and 1921, the government continued to lease the land, and in 1921, Joy sold the land to the United States government permanently.
On July 1, 1922, the 1st Pursuit Group returned to Selfridge and would remain the main force there for twenty years. The field was declared a permanent installation under Major Carl Spaatz. Between 1922 and the 1930s, things were a bit quieter at Selfridge, though there were some high points. Many squadrons continued to train, and air races became very popular at the time. Many visitors came to watch these aircraft events. In 1924, famed pilot Charles Lindburg was assigned there and completed his reserve training. In the winter of 1925, planes with ice skids left Selfridge to determine the usefulness of planes in the winter. The Michigan climate was finally good for something. The tests were a success and it was determined that aircraft could be used in Arctic Regions. In 1927, Lindburg returned to the site for additional training, after his famed transatlantic flight. That same year, the US Navy, Torpedo Squad 31 was briefly assigned to Selfridge before being moved to a hangar in downtown Detroit.
In 1935, Selfridge became part of a top-level General Headquarters Air Force and became known as the Home of the Generals, as over 100 men who passed through the base eventually rose to the rank of Air Force General. In 1939, a large expansion program was launched to train four new pursuit groups and many new buildings were constructed. The outbreak of war in Europe later that year caused many pilots to leave for the Pacific and many more arrived to train.
During World War II, Selfridge remained an army airfield. On March 29, 1943, the 332nd Fighter Group of Tuskegee Airmen moved there to train. The Tuskegee Airmen were a famed group of African-American and Caribbean-born military pilots who fought in World War II. These Airmen were the first African-American military aviators in the United States Armed Forces, and overcame many prejudices and segregation. They were eventually collectively awarded a Congressional Gold Medal for their exemplary service during the Second World War.
After World War II, the site was renamed Selfridge Air Force Base and continued to grow steadily. Later that year, Cold War Aircraft Units began to arrive and three consecutive units were hosted there between 1947-1970. In 1950, it became the headquarters for the 10th Air Force and continued to train Air Reservists. 1950 was also the year that radar stations began to provide ground controlled interception coverage for aircraft and missiles. There were many changes in our world, especially in military technology, and Selfridge certainly reflects that.
In 1955, the military brought Project Nike radars to Selfridge. This was a U.S. Army project to develop a line-of-sight anti-aircraft missile system. It produced the United States' first operational anti-aircraft missile system, the Nike Ajax. The missile's first-stage solid rocket booster became the basis for many types of rockets including the Nike Hercules missile and NASA's Nike Smoke rocket, used for upper-atmosphere research.
In 1957, the Air Defense Command took control, again, using the field for training. Ten years later, Selfridge's use changed yet again, this time to a US Coast Guard Air Station, and in 1969, Naval Aviation returned following the closure of Grosse Ile's Naval Air Station. On October 29 of that year, budget cuts reduced military forces in the United States and the 1st Fighter Wing, still stationed at Selfridge, was inactivated. The next year, Michigan Air National Guard's 127th Tactical Reconnaissance Wing moved from Detroit's Metro Airport to Selfridge.
On July 1, 1971, Selfridge was transferred to the Michigan Air National Guard and was host to more than thirty units that represented every branch of the military, including the US Border Patrol and the US Customs and Border Protection. It also hosted the 107th Weather Flight, which collected data, developed forecasting products, and directed forecasts to soldiers on the ground, providing them with necessary weather data for their missions.
Currently, about 5,300 people are assigned to Selfridge, mostly from the National Guard or reserves so you will find it quite busy at times especially on a weekend. The Air Force and other military arms, as you can obviously tell, owe a lot to these first training bases, like Selfridge. It played a vital role in training our pilots and other personnel, keeping our country safe from invaders, and Selfridge will continue to train and support the military for years to come. When you're out and about celebrating Independence Day or just enjoying a fun weekend in July remember the sacrifices our military have gone through for us and remember the significance that Selfridge Air Force Base played in their training.