Michigan is home to many notable individuals, men and women, of all ages. One woman in particular was not only important to our state, but also to the entire nation. She was so remarkable that she was inducted into both the National Women's Hall of Fame and the Michigan Women's Hall of Fame. Sojourner Truth was an advocate and a force for women's rights, the abolition of slavery, and many other noble causes.
Early Years
Sojourner Truth was born as Isabella Baumfree to James and Elizabeth around the year 1797. She grew up a slave in the Dutch-speaking Ulster County, New York. She was bought and sold four times in her young life. Both as a child, and a young woman, she was subjected to harsh physical labor and violent punishments. Truth had 2 children during that time. Her oldest son died in childhood. Her second child, a daughter, was believed to be the product of a rape by her then owner.
Truth found found love with a slave that lived nearby by the name of Robert but was unable to be with him due to the fact that his owner did not approve. At one point, Robert was beaten for trying to see Truth and she never saw him again. She was eventually united with another slave, Thomas, with whom she had 3 more children, beginning in 1815.
Escape to New York
In 1799, the state of New York began the abolition of slavery, but it wouldn't take effect for almost two more decades. In 1827, Truth escaped to freedom with her infant daughter, Sophia. Heartbreakingly, she had to leave her other children behind. She made her way to New Paltz, New York, where she was taken in by Isaac and Maria VanWagernen.
The VanWagernens bought her freedom, set her free, and helped redirect her life. While living with them, she learned that her son, Peter, had been illegally sold into slavery in Alabama. Truth took the issue to court with the help of the abolitionist couple and in 1828, her five-year-old son was returned. She also became a Christian while living with the VanWagernens.
Truth then moved to New York City, where she worked for a local minister. By the early 1830s, she participated in religious revivals that were taking over the state. It was through those events that she became a charismatic and well-known speaker. In 1843, she declared that the Spirit called on her to preach the truth. Consequently, she took the name Sojourner Truth on June 1st of that year, and began to travel and preach.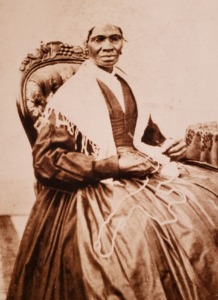 Meeting Garrison and Douglass
By 1844, she was living in a community in Florence, Massachusetts. While there, she met abolitionists William Lloyd Garrison and Frederick Douglass. When the community disbanded, she relocated to work for Garrison's brother. Garrison's anti-slavery organization encouraged Truth to give speeches about the evils of slavery. She never learned to read or write. Yet, she dictated what would become her autobiography, The Narrative of Sojourner Truth, to Olive Gilbert in 1850. Garrison published the memoirs, allowing Truth to survive on the sales of the book.
She was able to purchase her own home that same year. The book also brought her national recognition. She met women's rights activists, Elizabeth Cady Stanton and Susan B. Anthony, as well as temperance advocates. These both became causes she quickly championed. In fact, Sojourner Truth spoke at the first National Woman's Rights Convention in Worcester, Massachusetts.
Ain't I a Woman?
In 1851 Truth began a lecture tour that included a women's rights conference in Akron, Ohio. There she delivered her famous Ain't I a Woman? speech. In the speech, she challenged current ideas of racial and gender inferiority and inequality by reminding listeners of her combined strength and female status. It was around this time that Truth split with Douglass, who believed suffrage for formerly enslaved men should come before women's suffrage. Truth felt that both should occur simultaneously.
Move to Michigan
Truth settled in the Battle Creek area in 1857, after delivering a speech there the year before. Later that year she moved to the Michigan village of Harmonia with her daughter and friends. Harmonia was considered a spiritualist utopia. She continued speaking nationally during this time and also helped slaves escape to freedom.
Work in Washington DC
When the Civil War started, Truth helped recruit young black men to join the Union cause and later organized supplies for the black troops. Her grandson, James, was one of the men that enlisted in the 54th Massachusetts, the first black regiment. By 1864, she was working for the National Freedman's Relief Association in Washington DC and even met President Abraham Lincoln.
After the war, she continued to travel a great deal, focusing on helping freed slaves find jobs and build new lives. One of her passions was working on securing land grants for freedmen but after seven years her quest ended without attaining her goal. It was here that she met President Ulysses Grant and even worked to have him re-elected. She also continued speaking on women's rights, abolition, prison reform, and against capital punishment.
Return to Battle Creek
Truth bought a house in Battle Creek on Park Street, moving from Harmonia in 1867. She called this her home, while not traveling, until the end of her life. The year 1883 found her nearly blind and deaf but she remained sharp and alert. She died on November 26, 1883, in her Battle Creek home. A funeral held two days later, and was attended by almost a thousand people.
American abolitionist. Women's right activist. Temperance advocate. Evangelist. Author. And so much more! This woman truly lived her life to the fullest potential. A woman with spirit who left behind a legacy that anyone would be proud to have. One of determination, faith, perseverance, love and as her name so aptly states, Truth.