Beaches. Lighthouses. Tulip Time. Dutch Village and Windmill Island. Hope College. The birth of WWJD Bracelets. City of Churches. The Felt House. Civic Theatre. An awesome Civil War muster in the fall at Van Raalte Park. Most Michiganders know the city that includes all of these things–Holland. Located on the shores of Lake Macatawa and just minutes away from Lake Michigan, it is a beautiful tourist destination. Known for being settled by Dutch immigrants, it still boasts much heritage from the Netherlands, more than just the name. Even today, many individuals in West Michigan claim a Dutch ancestry. Holland celebrates its birthday in February, and has quite the interesting history, as does its founder, Reverend Albertus Van Raalte.
Albertus Van Raalte was born on October 17, 1811 in Wanneperveen, Netherlands. Not much has been recorded about his early life, but we do know that he was married in 1836 to Christina de Moen. That same year, he was also ordained a minister in the Secession Church, a part of the Dutch reformed clergy. In the Netherlands, the Dutch Reformed church had become the national church of the country, but the church split in the 1830s. Men like Van Raalte were opposed to the strict church laws. The government began persecuting members of this new orthodox church, and some ministers and leaders were even jailed, including Albertus himself. This led many members of the church to start thinking of emigrating.
During this time, many Dutch were farmers, but in the Netherlands, they had high taxes and little land. In fact, many families were having difficulties dividing the land between their sons. Many of the farmers also grew potatoes, but the same potato disease that heavily affected Ireland also hit the Netherlands. This, along with the religious persecution, led Albertus to look into moving to America to set up a new colony. In the fall of 1846, Van Raalte and 53 other Dutch settlers left Rotterdam on The Southerner, bound for New York City. At the time, their end destination was Wisconsin, which boasted great farmland for a cheap price. Van Raalte came with his wife and the five children they had at the time.
The group arrived late in the year, and were welcomed by the Dutch Reformed civilians there. They were warned to stay in New York for the winter but they decided to move on right away, ready to start their new harmonious Christian community. The winter weather came late, and the group was able to travel further than they expected. Still, they had to stop before reaching their final destination, and spent the winter in Detroit. While there, many of the men found work at the shipyards of St. Claire and they reassessed their plans. Van Raalte and a few other leaders set out to search for land. They traveled to Kalamazoo, and were then taken to Allegan via dogsled by pioneer Judge John Kellogg.
Once there, they met Reverend George Smith, M.I. Coit, and Reverend Ova Hoyt. These men convinced Van Raalte to settle in western Michigan, citing that it was more established, had better educated and more religious people, and would be a much better location for his colony than Wisconsin. Van Raalte agreed and decided to settle on Black Lake, which is now called Lake Macatawa. Kellogg told Van Raalte he could buy the land for $1.25 per acre. Van Raalte agreed and headed back to Detroit to gather his people and lead them back to their land. Moving to unsettled land was unique, as at the time, most European immigrants would go to the big cites, not settle their own colony.
Van Raalte and his fellow Dutch settlers arrived in what is now the Holland area on February 9, 1847. Religious services were immediately held. The area was inhabited by Ottawa natives and the Reverend George Smith, who had established the Old Wing Mission as an outreach to the natives. The land itself was covered in swampy forests, and was infested with insects. Van Raalte purchased many acres of land to use for the economy of his colony; most of this land would be farmed. Having good foresight, Van Raalte tried to get government aid to build a canal from Black Lake to Lake Michigan, but received nothing. Knowing that they needed access to the Great Lakes in order to have good commerce, the immigrants grabbed tools and dug the channel themselves.
Knowing there were still struggles in the homeland, including the economic depression Van Raalte sent a handbill advertising the land that was available for sale, and as a result, many young men and families moved to the fruitful land. In fact, within three years of the arrival of the initial 53 colonists, the Dutch population grew to 5,000. By 1847 alone, over 2,600 people left the Netherlands to settle in West Michigan.
Van Raalte was the unquestioned leader of this group, especially spiritually. He made sure that one of the first buildings erected was a log church. Up until then, services were held out of doors. It was a rough first year, especially with no doctors. Van Raalte bought medicine and used what basic medical skills he had, but many settlers, mostly parents, still died. Van Raalte built an orphanage, but the orphans were quickly adopted and the building was turned into a school. Van Raalte also bought a sailing vessel to use for a store, which had to be sold because of lack of capital. The settlers also constructed a wind-powered sawmill, though that failed within a year. Thankfully, a settler named Oswald van der Sluis built a successful steam-powered sawmill.
Albertus and his pioneers continued to build their Christian community. In 1848, a smallpox epidemic hit the area. The Dutch were not affected enough to note, but a combination of the sickness and the continuing influx of immigrants taking the land caused the Reverend Smith and the Ottawa natives to move north by canoe to the Leelanau Peninsula. Van Raalte and his settlers worked hard to make the swampy area as successful as possible. Van Raalte established churches and schools, created a Dutch language newspaper and wrote Dutch language books. Specifically, in 1850, he donated land for a college and by the next year, the Pioneer School was established on the site. This was the beginning of Hope College.
In the 1860s, war came to America, and though there was no fighting in Michigan, the people of Holland were still affected. Albertus Van Raalte was very much against slavery and strongly supported Abraham Lincoln and the Republican Party. Two of his sons, Benjamin and Dirk fought for the 25th Michigan Regiment, and both luckily returned home from the fight.
Unfortunately, after the war, Van Raalte saw his ideal harmonious Christian community start to unravel. On March 25, 1867, Holland was incorporated as a city, with Isaac Cappon as the first mayor. This took much control of the city away from the religious leadership and into secular hands. Around the same time, the religious unity of the community was shattered when Gysbert Hagan led an exodus from the Dutch Reformed Church. He claimed that the religion was too lax under current leadership. Later that year, Van Raalte retired from pastoral life, citing poor health yet he continued to help lead the city in other ways.
The rest of the 19th Century saw much growth in West Michigan. By 1871, railroad spurs extended into Holland. The growth was stunted in October of 1871, when a great fire swept through much of the Midwest including Holland.  Many homes and businesses were destroyed, but with encouragement and leadership from Van Raalte, the city was able to rebuild. This happened over several years and introduced a telephone system, public water system, electrical services and free mail delivery. In 1876, Albertus Van Raalte died at the age of 65, but his legacy, fortunately, lives on.
In 1895, civil leaders established a "Bonus Plan" that offered incentives to attract manufacturers to Holland. By the end of the 1800s, excellent transportation facilities encouraged much economic growth, including new furniture and other lumber-related industries. Agriculture was still a major economic activity as well. This is also when tourism began to flourish in Holland, resulting in several resort hotels and a new economy that continues today.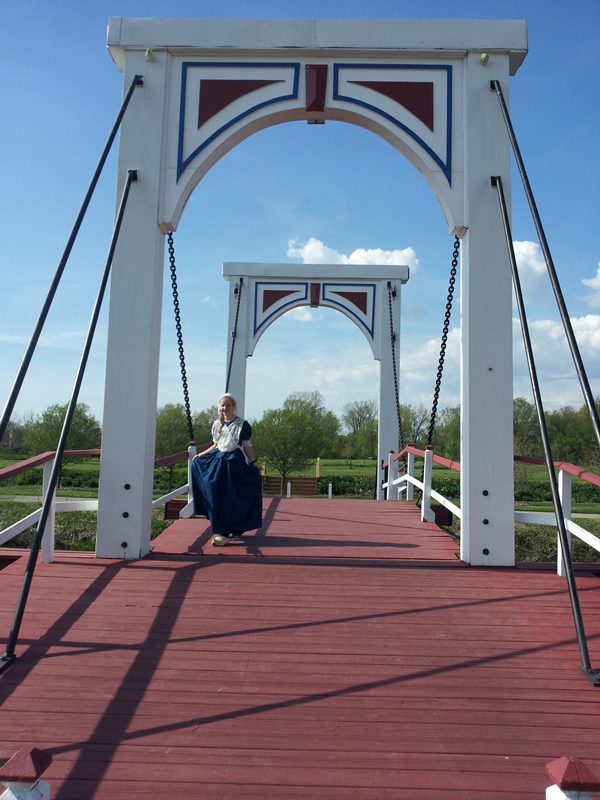 One other notable event in Holland's history has to do with its most popular festival: Tulip Time. Tulips came to the area with Van Raalte's settlers and many tourists enjoyed them. In 1927, a biology teacher from Holland High School, Miss Lida Rogers, was at a Woman's Literary Club meeting and recommended a day festival. She spoke about the area's unique sand dunes, fine trees, safe water supply, pure milk, and ample playgrounds, then advocated planting even more trees. At the time, the Chamber of Commerce was looking for an event just like this, so Rogers also suggested planting tulips in every yard. She concluded with reading a poem, "Come Down to Holland in Tulip Time." The next year, the City Council, gave funds to purchase 100,000 tulip bulbs from the Netherlands to be planted in city parks and other areas. Originally, this was supposed to be a "Tulip Day", and bulbs were available to Holland residents at one cent a piece. Finally, in 1929, thousands of tulips bloomed, and Holland invited visitors to come during a week in May. Because of the popularity of the event, it was decided to make Tulip Time an annual event.
Holland still has many places that honor its history. At the Holland Museum, you can see a settlers house, which is a restored and historically accurate home of the everyday Holland settlers. You can also walk through the Cappon House, which was the home of Holland's first mayor. Dutch Village is a popular field trip destination of third grade students learning Michigan history. Dutch Village is considered a theme park where you can find Dutch dancing, a craftsman carving the traditional wooden shoes, rides, games, and even farm animals that the youngest of visitors will love.
Windmill Island is another popular tourist stop with beautiful gardens and a great place to explore.  It is the only authentic Dutch windmill operating in the United States.  It grinds locally-grown wheat into flour, and you can buy some inside.  You can also take a guided tour of the mill, led by historically-accurate guides.  It is even possible to meet the Dutch-certified miller and see the process in action. There is also a deck where you can survey 36 acres of beautiful gardens, dikes, and canals. After you visit the mill, you can check out the gardens, where more historic interpreters can answer your questions.  There is also an Amsterdam street organ, a hand-painted Dutch carousel, and a children's playground. You can bring a picnic, see all the flags of the Netherlands, visit horses in the back pasture, and see a replica of a Dutch Inn.
Van Raalte Farm Park is a nature preserve and recreation area with hiking trails that lies on the Black River. It includes the Van Raalte historic home, which was built by Albertus's son, Benjamin. The house overlooks outbuildings, pastures and woodlands. Each fall, they also host an excellent Civil War muster, where visitors can experience living history encampments, talk with historians, and watch a Civil War battle.
Holland, Michigan has an exciting, rich history that continues to flourish today with its tourism, festivals and parks and though it never became the Christian community Albertus Van Raalte dreamed of, it has played an integral role in the religious and secular history of West Michigan.